This Saturday and Sunday the annual
San Diego Scottish Highland Games
were held in Vista, about a half hour north of here. The weather was fantastic, sunny and 75 degrees. The games were in Brengle Terrace Park, which is hilly, grassy and very large, which was important because
there were a lot of people there
! I've never seen so many kilt-clad men in one place, ever. I approve! There were vendors for all things Scottish -- tartans, kilts and kilt pins, shortbread, and Celtic jewelry, artwork and music. Of course there were lots of food booths and a beer garden.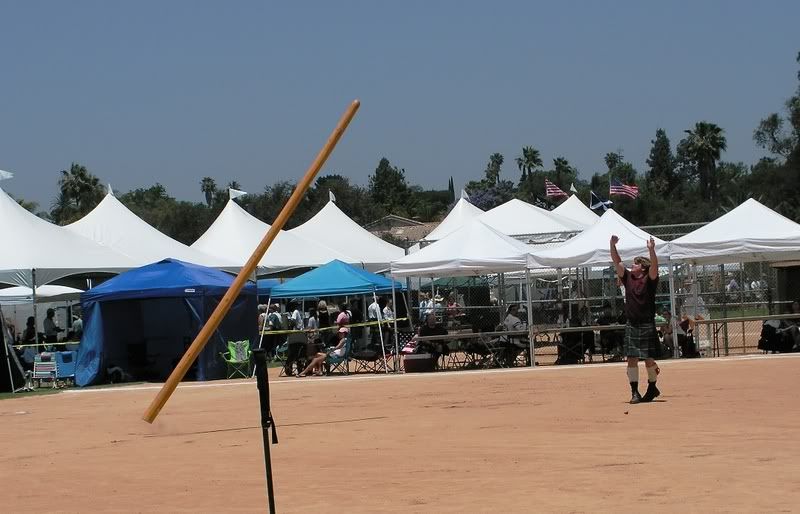 The caber toss involves balancing a large pole and tossing it in an attempt to flip and land the opposite end at a 45-degree angle. The poles are pretty much the size of telephone poles -- 19 feet long and weighing about 125 pounds.
This little video
shows a successful caber toss.
We spent most of our time hanging out under the shade of the pop-up tent, watching the sheepdog trials with Anna (blue hat), Danielle (young), and Ross and his wife and a few friends. Danielle had her dog Chesney, Anna had brought Riddle, Tikkle, and Alli, and Ross had Cross and Finn. We left Daisy at home this time, since we are too much the newbies to enter the trial.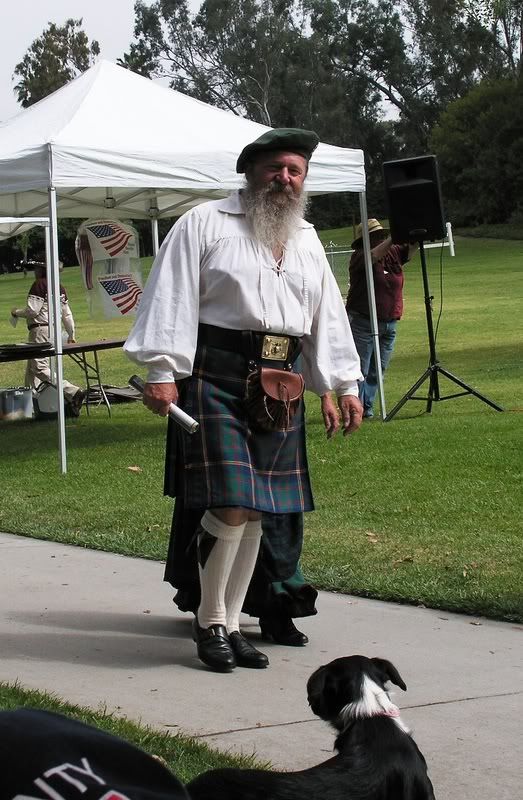 We enjoyed watching all the kilt-clad men walk by, young and old.
The Sheepdog Trials really were fascinating. It was the first trial for Danielle and her dog Chesney, who train with Anna in Valley Center where I go with Daisy. They did very well, as
this slide show
depicts.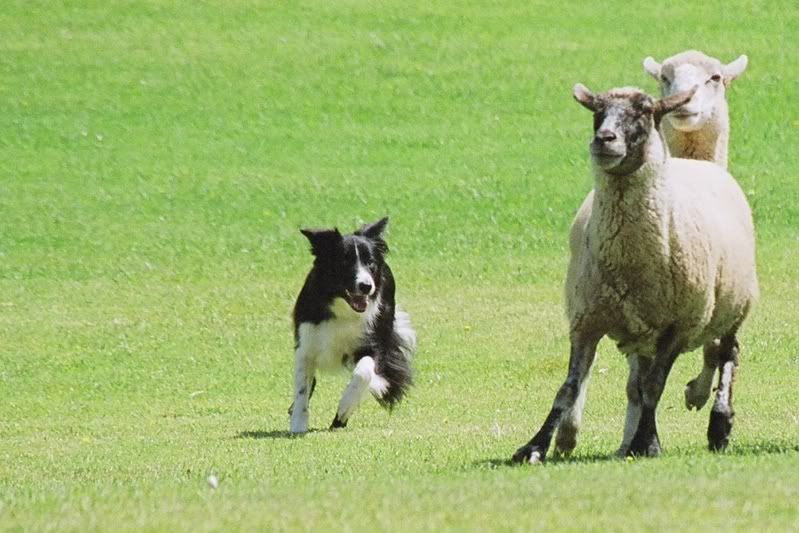 The sheep knew that if they ran up the hill to the left in the pictures, they'd get to the exhaust pen and be able to rejoin the rest of their sheep friends. They were very motivated to do this, and more dogs lost their sheep than not.
Red Dog (aka Finn) is desperately trying not to lose this sheep. Meanwhile his other two sheep are free to make a break for it.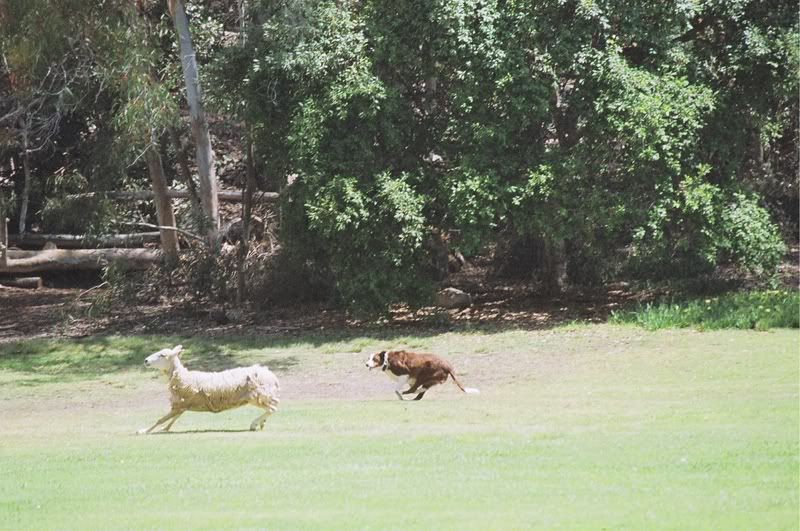 More pictures of the the games and the dogs are posted at the
Border Collie Boards
.
I love Celtic music, and there were always bands playing at two venues, as well as the bagpiping, drumming, and highland dancing contests. The band
Molly's Revenge
played in the beer garden while we ate lunch. They were wild! We all agreed that, in fact, a wild look goes well with a kilt. We saw several kilt-wearers who sported mohawk haircuts, and it was definitely a good look.